Free diamonds in Mobile Legends: Bang Bang is what many players are looking for because of the high cost of buying exclusive skins, statues, heroes and so on. In the early days of Mobile Legends, Moonton was generous to give away free diamonds (dias) through different programs. New players would automatically get some diamonds by simply creating an account.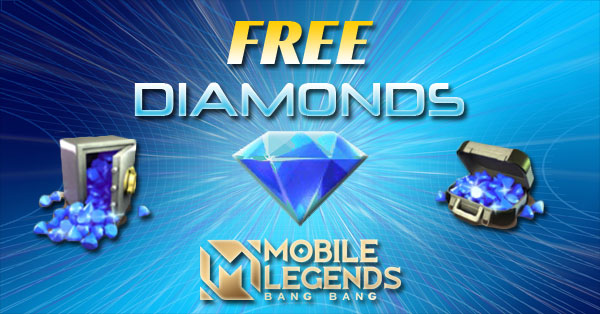 After several seasons, we can definitely confirm that those days are over and it is time to look for other ways to get free diamonds. This guide will help you discover some of the ways that you can get free diamonds in Mobile Legends and learn about the alternatives that you can use to get the items that you want in the game.
How to Get Free Diamonds in Mobile Legends
Follow Facebook Pages for Mobile Legends
Search for Facebook pages related to Mobile Legends and add the word "free diamonds" in the search. Find the pages that routinely post programs or games where you can win free diamonds and follow them. The more pages you follow, the greater your chances of winning.
Examples of Facebook Pages with free diamonds giveaways
https://www.facebook.com/MLBBPHCommunityHeroes
https://www.facebook.com/JollymaxPH
Official Mobile Legends Facebook pages
https://www.facebook.com/mobilelegendsgame/
https://www.facebook.com/mplph.official
If you can find new Facebook pages that offer free diamonds, prioritize them because you'll have less competition in its raffles. New Facebook pages tend to do this to increase their number of followers and engagement.
Subscribe to Youtube Channels for Mobile Legends
Similar to Facebook pages, some new Youtube channels love to kick start their launch with a raffle or program to boost their viewer engagement and their number of subscribers. This happens after a certain period until they reach their target number of subscribers.
They post free diamond redemption codes on the video or randomly pick users who comment on their videos. Aside from getting a chance to earn free diamonds, you're also learning the strategy of the pro players. Enjoy a cup of coffee or a snack while having a fun moment watching Youtube videos.
Go to the Grocery Store
Make the most out of your grocery store purchase by picking items that have a promo from Mobile Legends. This game has been so popular now that it's already partnering with some food brands in the market for better promotion while giving gifts to its avid players.
Here are some examples:
Richoco
Mountain Dew
Tictac
Stream Your Game
Streaming your game in Mobile Legends can help you get diamonds through BB coins. These coins can then be converted into free diamonds. The game requires a rank of Master and above and a ranking of Top 5000 of any Global Leaderboard. Once you start streaming your game, your viewers can send you gifts in the form of BB coins.
Join Tournaments
If you feel that you're skillful and competitive enough in Mobile Legends, you can consider joining tournaments that give massive diamond prizes. Take the challenge and test your ability to rise above your competitors while enjoying your favorite mobile game.
Mobile Legends Free Diamonds Warning
Beware of Mobile Legends hack or mod that promises unlimited diamonds. You might enjoy it for a short time but it's useless once your account gets permanently banned. Mobile Legends may not catch you right away but it will eventually catch you after some updates.
There are also some third-party apps that let you earn diamonds by watching ads or doing certain tasks. Watch out for those as well because some tend to be a scam while some can steal your sensitive information related to online shopping and banking.
Alternative to Free Diamonds
If you're just a hobbyist who wants to get new skins, emotes and heroes, there are many other ways to get them without using any diamonds. Check out the list below to see if you may have overlooked some of them.
Battle Points & Tickets. This is something that you'll most likely be aware of already. Playing the game regularly earns you some battle points but if you get a gold or an MVP medal, it will be faster for you to fill the Medal Chest and earn more Battle Points. Claiming rewards from Daily Quests and Celestial Task can quickly increase your number of tickets.
Lucky Spin Trick. Most players dismiss the possibility of winning a skin in the lucky spin roulette considering its very low probability. While there's some truth in it, it's not impossible at all. It actually depends on how much time and ticket you're willing to spend. Whenever I encounter a skin that I really like in the lucky spin, I allot 1,000 to 1,500 tickets for it. A lot of times I win the skin that I want even before hitting the 1,000th mark. There are times when you won't win within the day no matter how much you spin. I try it again the next day and win the skin that I want. I suggested the trick to a friend and he was happy to get the skin that he wanted for his favorite hero.
Fragments. Because of its location in the shop, the fragments are sometimes overlooked. There are three kinds of fragments, the first one is for Premium Skins, the second one is for Rare Skins and the last one is for buying heroes. Based on that, they clearly function like diamonds but your choices are limited.
Gems. They may not sparkle like diamonds but gems allow you to buy select items like diamonds too. Lucky Gems allows you to buy seasonal heroes and skins in the Lucky Shop while Starlight Gems allows you to buy fragments that you can use to buy heroes and skins.