Savage in Mobile Legends refers to a remarkable feat where a player eliminates all five enemy heroes in quick succession without dying themselves. It is a term that sends a thrill down the spine of players and invokes a sense of accomplishment in the world of mobile gaming. Achieving a Savage in Mobile Legends: Bang Bang is not just about racking up kills; it's a testament to a player's skill, strategy, and timing.
Knowing the player who has the most savage in Mobile Legends will help you discover who are the best heroes to use to achieve it. You won't just see one player, but ten players to see who are their common favorite heroes. This will help you narrow down your choices of heroes, which will most likely get you more savage kills. The list below disregards the ratio between the number of games compared to the savage kills. It only lists the players with the most savage kills regardless of the number of games played in all seasons.
Top 10 Players Who Have The Most Savage in Mobile Legends
10. OMGitsVinn.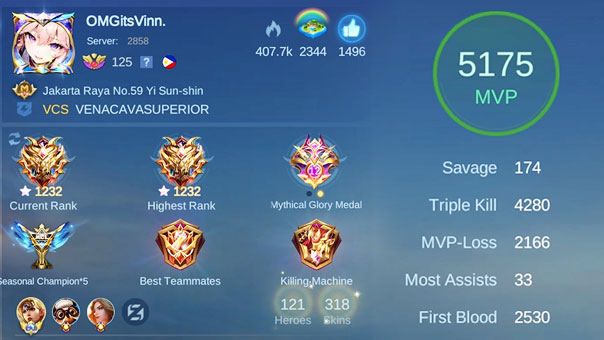 Savage: 174
Win Rate: 63.69%
Matches: 16,989
MVP: 5,175
Top 5 Heroes: Yi Sun-Shin, Freya, Wanwan, Gusion and Ling
9. AdilagaAlwaysNT
Savage: 177
Win Rate: 71.25%
Matches: 13,824
MVP: 6,179
Top 5 Heroes: Aamon, Freya, Hanabi, Granger and Fanny
8. Speedy el Papi
Savage: 178
Win Rate: 79.01%
Matches: 17,801
MVP: 5,627
Top 5 Heroes: Claude, Chou, Gusion, Karrie and Granger
7. Mad'ss
Savage: 184
Win Rate: 68.59%
Matches: 7,686
MVP: 2,645
Top 5 Heroes: Moskov, Argus, Dyrroth, Miya and Karrie
6. Kyashi
Savage: 190
Win Rate: 77.15%
Matches: 22,018
MVP: 6,294
Top 5 Heroes: Martis, Roger, Aldous, Granger and Leomord
5. Uchiha CeL
Savage: 192
Win Rate: 60.72%
Matches: 12,506
MVP: 858
Top 5 Heroes: Khufra, Uranus, Atlas, Grock and Kaja
4. hatestreakk.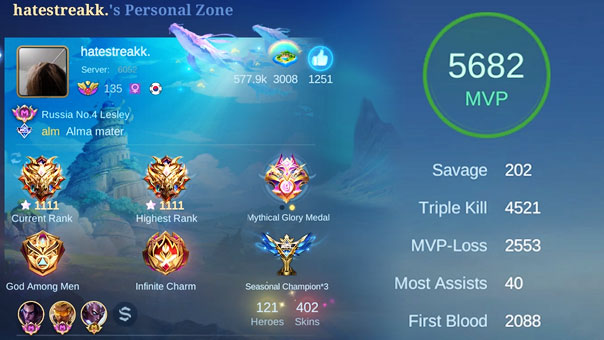 Savage: 202
Win Rate: 64.11%
Matches: 19,259
MVP: 5,682
Top 5 Heroes: Bruno, Clint, Brody, Granger and Karrie
3. All Eyes On Me
Savage: 203
Win Rate: 69.13%
Matches: 22,852
MVP: 5,471
Top 5 Heroes: Ling, Hayabusa, Granger, Lancelot and Esmeralda
2. HUSHSKIE
Savage: 415
Win Rate: 64.59%
Matches: 30,856
MVP: 10,291
Top 5 Heroes: Harith, Dyrroth, Gusion, Ling and Granger
1. Takaaa
Savage: 1,199
Win Rate: 85.75%
Matches: 32,090
MVP: 10,657
Top 5 Heroes: Beatrix, Selena, Bruno, Claude and Julian
Most Picked Heroes
Based on the list above, Ling was the most picked assassin and Granger was the most picked marksman. It sounds like Granger is the best marksman choice but the Top 4 and Top 1 heroes both have Bruno on the list but not Granger. Beatrix can be considered one of the best choices as well because she's the favorite hero of the top player with 1,199 savage kills. He is way far ahead of the Top 2 player which only has 415 savage kills.
The Grand Slam of Mobile Legends

Let's delve into what it means to achieve a Savage in Mobile Legends and why it's so coveted.
The Holy Grail of Kills: In Mobile Legends, the game's primary objective is to destroy the enemy's Nexus or "Ancient." However, along the way, eliminating enemy heroes is crucial for gaining an advantage. A Savage is the pinnacle of hero elimination, showcasing the player's ability to outmaneuver, outwit, and outplay their opponents.
The Perfect Execution: To achieve it, a player must take down all five enemy heroes without succumbing to death. This requires not only exceptional skill but also impeccable timing and positioning. A Savage often involves an uninterrupted chain of kills, making it a breathtaking spectacle for both the player and the audience.
Strategy and Coordination: A Savage doesn't just happen by chance; it requires a deep understanding of hero abilities, map awareness, and the dynamics of team fights. Players often coordinate with their teammates to set up these remarkable moments. Crowd control, synergy, and teamwork play a vital role in securing it.
Glorious Outcome
The Rush of Triumph: When a player manages to achieve it, there's an adrenaline rush like no other. The feeling of single-handedly decimating the enemy team is intoxicating, and it can turn the tide of the game in your favor. Teammates and spectators often erupt in cheers and applause, making it a memorable moment in Mobile Legends history.
Legendary Status: A player who consistently achieves it is often seen as a legend in the Mobile Legends community. Their gameplay videos are shared, and their strategies are dissected. This status not only brings recognition but also a sense of responsibility to maintain that level of skill and performance.
Game-Changer: It doesn't just impact the game emotionally; it also has a tangible effect on the match. It can break the enemy team's morale, leading to a domino effect of defeats. It provides an immense gold and experience advantage, which can be the turning point in securing victory.
Aiming for Savage
In Mobile Legends, achieving it is akin to hitting a grand slam in baseball or scoring a hat trick in soccer. It's a moment of glory that players strive for, and it represents the zenith of their gaming prowess. So, the next time you're in the heat of battle, remember that achieving it isn't just about personal glory; it's a testament to your skill, strategy, and mastery of the game's mechanics.