Subway Surfers is a fast-paced mobile game that was released on September 20, 2012. It falls under the endless runner category. Google Play Store shows that it has more than 1 billion downloads but Android Rank estimates that the actual number is around 1,578,589,333. It has a positive rating of 4.5 stars out of 39.8 million reviews. Subway Surfers was created by SYBO which is based in Denmark. Its PC version can be played on the POKI website.
Enjoy a fun and thrilling adventure as you run or surf fast while avoiding obstacles and collecting various items. Sharpen your reflexes as you strafe, jump and slide with the right timing and execution. Unlock new game characters as you go. There's a wide variety of characters to choose from! Be more fashionable by unlocking different skins for your characters and level up your gameplay by upgrading your gears and skills.
Subway Surfers Gameplay
The Subway Surfers game starts with a boy named Jake being chased by a security guard and his dog. Hitting obstacles will result in being caught by the security guard while a slight hit from an obstacle will make the security guard get near to you. This means that the security guard will be visible in the game as he chases you but it's only for a short period of time. During that period, if you slightly get hit by another obstacle, the security guard will be able to catch you.
You can avoid the obstacles by moving left, right, jumping or sliding. As you run in the game, there are several items that you can collect like coins, powerups, letters and event tokens. You can use the coins to buy boosters, powerups, upgrades and certain characters. For the letters, you need to complete the full name/word to be able to unlock its corresponding reward. The game's pacing starts slow and then speeds up gradually as the game progresses.
Characters
There are currently 30 characters that you can collect. This number changes depending on the season but the main characters will always remain. The requirements for unlocking the characters vary. You can buy some characters with the game coins or through a credit card. Some require completing the token required under them. These tokens can be acquired through the gift box, mystery box or token box. These boxes won't guarantee that you'll get the tokens that you need because it's random.
Most characters will have 3 skin options. Most of the time, you can unlock the skins the same way you unlock the characters. You can buy them using coins or through a credit card while some require collecting tokens.
Boards
The game currently has 26 types of boards. You can buy some of them using coins and some using keys. These colorful boards with unique designs are not just for aesthetics only but for playing advantage as well because some of them have special powers. The powers include gliding, teleportation and higher jumps. You can unlock these special powers using keys.
To use a board, double-tap the screen to activate it. It can also extend your life in the game because hitting an obstacle or train while riding a board will just take the board away and you resume running.
Powerups
Jetpack. The jetpack flies you into the sky to collect coins.
Super Sneakers. Allows you to jump higher than normal.
Coin Magnet. Automatically collects all nearby coins.
2x Multiplier. Doubles your score while the powerup is active.
Upgrade the powerups to have a longer duration permanently.
Subway Surfers Missions
There are up to 30 mission sets and each set has three missions. Some examples are using a hoverboard, picking 5 magnets or reaching a certain number of scores. Once you complete all three missions, you'll increase your score multiplier. Having a high multiplier will help you earn higher scores in each game.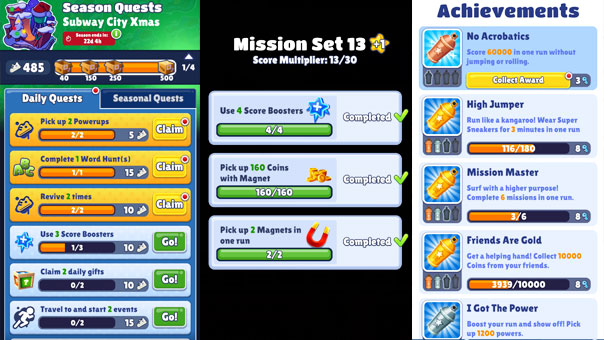 Quests
Daily Quests. There are currently 8 daily quests that you can finish to increase your sneaker points. Upon reaching specific sneaker points like 40, 150 or 250, you'll get a reward bundle like hoverboards, coins, powerups, headstarts, score boosters and more.
Seasonal Quests. There are 13 seasonal quests that will also help increase your sneaker points. These quests will take longer to achieve but the rewards are much greater.
Achievements
The achievements section lists the exceptional accomplishments you made during the game. Getting an achievement is rewarded by keys. Each achievement has four different levels: Bronze Spraycan, Silver Spraycan, Gold Spraycan and Diamond Spraycan. There are 28 different types of achievements that you can target.
Top Run
The Top Run section lists the Top 21 players for the week in the country where you're located. You can either earn a bronze medal, silver medal, gold medal, diamond medal or champion medal. The game sets a certain point threshold that you need to hit in order to qualify for a medal. The points required per medal are random. Perhaps it depends on the existing scores of the players in the area.
Rewards
Bronze = 2,000 coins
Silver = 3,000 coins
Gold = 5,000 coins
Diamond = 10,000 coins
Champion = 15,000 coins
Hunt
Season Hunt. This allows you to participate in a particular season event to receive 30 different rewards. You just need to catch all of the season tokens required per stage when playing the game until stage 30 is reached. Token examples: A pyramid for the Cairo event, a gingerbread man for the Christmas event and a Chinese lantern for the Lunar Year event. After completing all 30 stages, you will continue to receive bonus rewards as long as the event is not yet over. There's an option to buy the token requirement with keys.
Word Hunt. Collect the letters floating in the game until you form the required word to earn a daily reward.
Shop
Store. This is where you can buy keys, coins, token boxes and more. There are some bundle packs as well which contain a combination of keys, coins and surfboards. There are some items which don't require any money. You just need to watch some ads or visit their social media sites to earn the rewards.
Offers. Use the event coins to buy the items in this section. The items you can buy here are seasonal skins, score boosters, tokens, headstarts, characters and some bundles with a combination of the items mentioned.
Boosts. You can buy the three types of game boosters in this section. The first one is Hoverboard. You can activate it by double-tapping the screen. This item will protect you from crashing for 30 seconds. The second item is Score Booster. This will increase your score multiplier in one run. The last item is the Headstart. This lets you skip ahead and allows you to run at a higher speed.
World Tour Events
Daily High Score. You'll receive varying rewards when you reach the scores 15k, 50k, 85k, 155k and 260k. This will also allow you to unlock treasure chests when collecting 250, 500, 1,000, 2,000 and 3,000 coins. If you score 260,000, you'll be eligible for Ranked Rewards.
Tag Time Attack. This run has a limit of 1 minute but you can keep adding time as you pick an hourglass. Each surfer needs to rest for 2 hours before they can be used again. You can skip the wait by watching an ad or paying with keys. Another option to continue playing this run is to use another character in their limited list. Similar to the Daily High Score, you will receive certain rewards when reaching a particular milestone in this game.
Marathon. This run takes longer but has greater rewards. Use the Score Boosters and Head Starts when playing this game since it's quite challenging.
Super Runner. You can use the latest Super Runner character in this event. It has 5 stages and if you complete all of them, you'll get the Super Runner character as a reward. Each stage is divided into 5 target scores that have corresponding rewards when achieved.
Subway Surfers Tips
Take the high ground. As much as possible, pick a route where you'll be on higher ground because it helps you see the obstacles far ahead. This advantage will help you plan beforehand what quick responses you need to make.
Swipe down. Jumping to avoid an obstacle or to transfer to another train can be tricky when you reach the fast part. It's even trickier when you get the super sneakers. Swiping down can cancel your jump and will make you land quickly. Use this to avoid hitting an obstacle because of a badly timed landing.
Coins. Since the goal in this game is a high score, do your best not to miss out on the coins because they add score as well. Despite its importance, make sure that you're not sacrificing your life for the sake of the coins. Don't try to grab them if it will put you in a bad situation.
Hoverboard timing. The hoverboard acts as your life extension because it lets you continue the game after getting hit by an obstacle or train. Since it has a time limit, use it only when you're in a tough situation. Practice activating it fast enough to spare your life.
Optimize. Take note that completing the mission set will increase your score multiplier by 30 and upgrading your powerups lets you use them for a longer time. Make it your initial goal to maximize all of these. Once you've achieved that, it will be easier for you to earn a high score even in just a short period of run.
Online advantage. If you're serious about going far in the game, playing it while connected to the internet is recommended. Although it's annoying, watching a short ad to continue the game is better than using up your valuable keys. In fact, you can utilize both to get as far as you can in the game.
Subway Surfers Animated Series
In 2018, an 11-episode animated series was released on Youtube for Subway Surfers. The first episode was uploaded on June 1, 2018, while the final episode was uploaded on January 11, 2019. While the first two episodes had 31 million and 22 million views respectively, the rest of the episodes started to have lower views. Some episodes were only getting 9 million, 7 million and 4.4 million views. The final episode managed to get a spike of 25 million views.