Among Us characters are distinguished based on their colors and skins. The skins help the players customize their characters in the most unique way. Aside from aesthetic purposes, it can also help prevent mistaking a particular character for another. Some skins are themed related to food, game map and profession. The recent update added skins for the characters of the video game Destiny.
In the Classic game mode, most of the characters are assigned as crewmates and some crewmates are given extra roles like scientist or engineer. The special roles can be added or removed by the host player who created the game room. Regarding the impostor, the creator can add up to 3 impostors and has the option to make them shapeshifters or not. In Hide N Seek, only one character can be an impostor but the crewmates can use the vents like an engineer.
Among Us Characters
Classic
Needs to complete a list of tasks, survive and catch the impostor.
Has the same tasks as a crewmate but the player can check everyone's vitals anywhere.
This character also needs to fulfill the crewmate's role but has the capability to use vents.
This is the villain role of the game whose goal is to prevent the crewmates from completing their tasks through sabotage and by eliminating all of the crewmates.
This unique feature allows an impostor to copy the image of a crewmate to mislead the entire crew.
This is the spirit of a dead crewmate who has the ability to put a shield on another crewmate to prevent it from getting killed by an impostor. The shield has a short time limit.
Hide N Seek
Impostor – The impostor's role is to go on a killing spree and wipe out the entire crew before the set time limit.
Crewmate – The crewmate's role is to hide and avoid getting killed by the impostor within the time limit. Doing tasks can speed up the impostor's time limit.
Among Us Colors
The character colors in Among Us helps the players point out the exact character that they want to talk about. Each color has its single-word name to simplify the identification of a character and shorten chat conversations.






Among Us Skins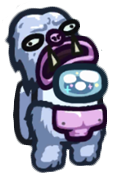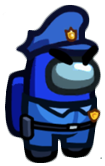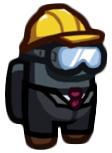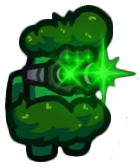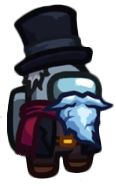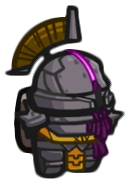 Among Us skins can be acquired in three different ways. For regular skins, you can buy them at the store using the bean points that you earn when playing games. The second option is to buy cosmicubes. It contains a set of different skins that you can unlock using its own currency.
Like the bean points, you will also automatically earn cosmicube currency as you play games. Most cosmicubes can be bought using the bean points while some can only be bought using stars. The store also offers skin bundles using stars. The only way to get a star is by buying it with real money using a credit/debit card.