Among Us is a suspenseful multiplayer online game that will test your investigative skill, sound judgment and deductive reasoning. It may have simple 2D and cartoonish graphics but its intense and unpredictable format will keep you engaged. Fans of the movies Knives Out, Scream and other thriller movies would surely enjoy this game.
Among Us was released by Innersloth on June 15, 2018 for Android and iOS. It already has 500+ million downloads in the Google Play store alone. Android Rank estimates that its actual number of downloads is 511,998,323. This game eventually became available on other devices like PC, Nintendo Switch, PlayStation and Xbox.
Among Us Gameplay
Among Us is a multiplayer survival game where a player will randomly get assigned as either a crewmate or an impostor. The entire crew needs to complete a list of tasks to succeed while an impostor needs to delay their tasks through sabotage and eliminate the entire crew to win. If the crew successfully identified and evicted the impostor—it will also result in an instant win. The maximum number of players that can join per game is up to 15. Out of the 15 players, the number of impostors that a game creator can set is up to 3.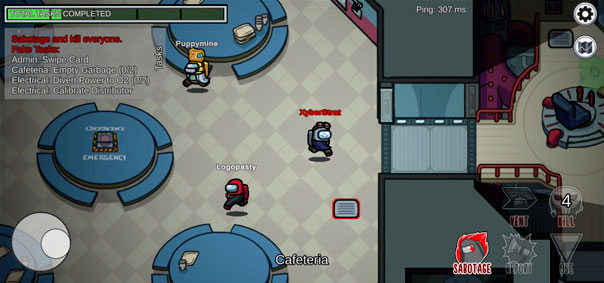 When a dead crewmate is spotted, anyone can report it and set up a meeting. A short discussion between the crewmates is done through group chat. Everyone will try to narrow down who is the closest possible culprit based on the data at hand. After the discussion, all of the members can vote for who they think should be ejected from the ship. Dead crewmates will turn into spirits and can still continue with the tasks. Some spirits can turn into guardian angels and give protection to whoever the impostor might kill.
Other Roles
The game creator can also add scientists and engineers to the team. An engineer can use the vents while a scientist can check everyone's vitals anywhere. An impostor can be set to become a shapeshifter. This feature allows the impostor to copy an image of one of the crewmates to deceive them into suspecting the wrong person. Shapeshifting works for a limited time only and the impostor will automatically change back to its original form after the time limit.
Hide N Seek
Hide n Seek is a new mode in Among Us. Innersloth released it on December 9, 2022. It can be compared to a battle royale setup where the goal of the crewmates is to run and hide to avoid getting killed by an impostor on a rampage. For crewmates to win, only one of them needs to survive within the time limit or by completing all of the tasks to speed up the time limit. For the impostor to win, he/she just needs to find and eliminate all of the crewmates.
Colors
Despite the 15-player limit in the game, there are 18 colors that the players can choose from. These are given single-word labels for faster identification during group chat discussions.
Color names: Red, Blue, Green, Pink, Orange, Yellow, Black, White, Purple, Brown, Cyan, Lime, Maroon, Rose, Banana, Gray, Tan and Coral.
Objects
Vent, Emergency Button, Security Camera, Moving Platform, Door, Ladder, Node and Seismic Stabilizer.
Among Us Game Modes
Local
This game can be played offline over a local wifi connection. It's an ideal setup for playing Among Us with a group of friends or family members.
Online
The online mode allows the player to play with other players across the globe. There are three server regions at the moment: Asia, Europe and North America.
Options
Host. This option lets a player create a game, set the rules and configure the tasks and roles.
Public. This section will display all of the games created by other players where any player can join.
Private. This section requires a code that a player needs to input to be able to join the game.
Practice
From the name itself, this is a practice mode where a player can customize his/her role as a crew or an impostor. There's also an option to be a scientist, engineer or shapeshifter. You can learn to do the tasks here more efficiently and analyze how to be an effective impostor as well.
Store
There are several items you can buy in the Among Us Store to help you customize your character most uniquely. It has sections for Hats, Skins, Pets, Visors and Nameplates.
There are two ways you can buy items in the store. Use the Bean points that you earn when playing games and using Stars. The Stars can be purchased through a debit/credit card.
There are bundle options as well which contains a full set of outfit and some are pair of pets. You can only purchase the bundles with Stars only at the moment.
Buying cosmicubes is another great way to get unique items. A cosmicube contains a large collection of items but they're all initially locked. To unlock the items, you need to activate the cosmicube and then earn its currency as you play games. With the currency earned, you can start unlocking each of the items. You can buy some cosmicubes with Bean points and some with Stars.
Maps
There are currently four maps in Among Us. These vary in size and number of sections. The player can access the entire map anytime by clicking the map icon on the upper right of the screen. The Skeld is currently the most used map in the game while the Airship is the game's biggest map.
The Skeld
14 Sections: Cafeteria, Weapons, O2, Navigation, Shields, Communications, Admin, Storage, Electrical, Security, Reactor, Lower Engine, Upper Engine and MedBay.
Mira HQ
14 Sections: Cafeteria, Balcony, Locker Room, Navigation, Communications, Storage, Laboratory, Launchpad, Reactor, Office, Admin, Greenhouse and MedBay.
Polus
12 Sections: Office, Dropship, Weapons, O2, Laboratory, Specimen Room, Storage, Electrical, Security, Boiler Room, Communications and Admin.
Airship
18 Sections: Meeting Room, Vault, Brig, Gap Room, Records, Lounge, Cockpit, Communications, Engine Room, Main Hall, Showers, Cargo Bay, Armory, Electrical, Medical, Viewing Deck, Kitchen and Security.
Tasks
Each crew has a list of tasks and the number of tasks will depend on how the game creator set it up. When everyone completes the tasks, the crewmates will win the game. Most of the tasks are similar across all maps.
The Skeld Tasks
Swipe Admin Card, Clean Vent, Dispose of Garbage, Fix Wiring, Divert Power, Accept Diverted Power, Start Reactor, Clear Asteroids, Inspect Sample, Submit Scan, Clean O2 Filter, Download Data, Upload Data, Chart Course, Stabilize Steering, Empty Chute, Prime Shields, Fuel Engines, Calibrate Distributor, Align Engine Output and Unlock Manifolds.
Mira HQ Tasks
Fuel Engines, Run Diagnostics, Submit Scan, Divert Power, Accept Diverted Power, Prime Shields, Enter ID Code, Buy Beverage, Empty Garbage, Fix Wiring, Sort Samples, Process Data, Clean O2 Filter, Clear Asteroids, Measure Weather, Assemble Artifact, Unlock Manifolds, Start Reactor and Water Plants.
Polus Tasks
Chart Course, Insert Keys, Fix Wiring, Download Data, Upload Data, Record Temperature, Fix Weather Node, Fuel Engines, Open Waterways, Scan Boarding Pass, Swipe Card, Replace Water Jug, Empty Garbage, Monitor Tree, Fill Canisters, Reboot Wifi, Repair Drill, Align Telescope, Submit Scan, Inspect Sample, Start Reactor, Store Artifacts, Unlock Manifolds and Clear Asteroids
Airship Tasks
Calibrate Distributor, Divert Power, Reset Breakers, Stabilize Steering, Polish Ruby, Dress Mannequin, Rewind Tapes, Enter ID Code, Develop Photos, Decontaminate, Make Burger, Fix Shower, Pick Up Towels, Clean Toilet, Put Away Rifles, Put Away Pistols, Sort Records, Unlock Safe, Start Fans, Fix Wiring, Download Data, Upload Data, Fuel Engines and Empty Garbage.
Among Us VR
Among Us introduced its new VR game where players can experience the thrill in 3D. It will give you a trembling experience of what it's like to be chased by a killer and feel greater panic when the lights go down during sabotage. The voicechat feature lets you experience what it's like to stand in a crowd to have a discussion. It also lets you sense who's lying based on the tone of voice and manner of speaking.
The release date of Among Us VR is November 10, 2022. Since it's a new mode, it doesn't have some of the features of the original game. There's only one map at the moment and there's no option for scientists and engineers.
Some limitations are due to the nature of the environment. For example, they can't have a shapeshifter because the game can't copy the voice of the player. Increasing the movement speed is not an option too because that would be nauseating.
Among Us Toys
The popularity of Among Us already reached Philippines and we have several stores selling its toys. They come in stuffed toys and action figures of varying sizes.