Fresh Harper is the third character in Subway Surfers mobile game. You can unlock him in the game by collecting 50 Fresh's stereo tokens. He's a cool kid who is talented in skateboarding and has a deep love for his old-school stereo. In the Subway Surfers Animated Series, it was revealed that he has a big family and his grandfather also lives with them.
They live on an average income in a decent home. His family clearly represents the middle class in the series. This representation is significant because it shows that despite Jake's family's financial struggles and Tricky's ultra-rich family, the three of them are good friends.
Unlike Jake, Fresh is less adventurous and is more of a chill type of person. He loves skateboarding and listening to music. As a friend, he's reliable and supportive. Fresh and Jake helped Tricky get recognized for her passion for break dancing during her ballet recital. Overall, he's a fun, helpful and kind friend that is easy to get along with.
Fresh Skins
Red stereo accessory.
Beige sneakers with red tongue.
Long white socks with red and beige lines.
Red shorts.
Green undershirt.
Eyeglasses.
Gray stereo accessory.
Purple sneakers with red tongue.
Spring green socks.
Purple shorts.
Green chevron undershirt.
Purple sunglasses.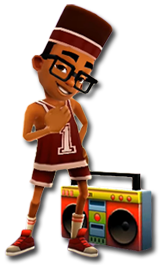 Red stereo accessory.
Brown sneakers with red tongue.
Ivory socks with red lines.
Brown jersey shorts.
Brown jersey shirt.
Brown forehead band.
Fresh Subway Surfers Variants
Stereo wrapped as a Christmas gift with a yellow ribbon.
Red Chuck Taylor shoes.
Green socks.
Charcoal pants.
Leather belt with gold buckle.
Azure t-shirt with gold neck lining.
Jacket with green edges, snow design, red sleeves and red placket.
Christmas ball earring.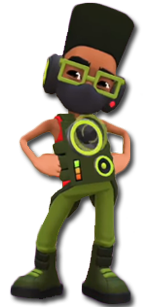 High-cut dark-green sneakers with black soles and tongue and green laces.
Green overalls jumpsuit.
Dark-green vest with built-in stereo.
Red undershirt.
Charcoal facemask.
Green headphones with black foam.
Green eyeglasses.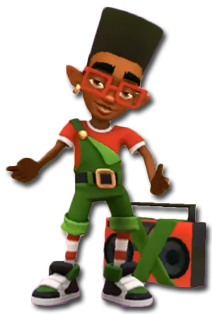 Orange stereo wrapped with green ribbon.
Black high-cut sneakers with white laces and soles, green vamp and collar and black toe cap and tongue.
White stockings with orange stripe.
Green overalls jumpsuit with folded pants.
Leather belt with bronze buckle.
Red t-shirt with white edges.
Bronze earring.
Red eyeglasses.