Yutani Rodman is the fourth character of the Subway Surfers mobile game. You can unlock her by collecting 500 Yutani's UFO tokens. In the animated series, she's the nerd friend in the group who loves to experiment and invent new things. She lives with his father Mully Rodman who runs a small restaurant. Since her father is Caucasian and her features are clearly Asian, she is possibly adopted or her mother could be an Asian.
To help with the family business, she created a robot waiter. Her friends Jake, Fresh and Tricky got the chance to experience getting served by her robot. She also invented the weather machine that will help send rain to their garden to easily water their plants. Despite the malfunctions and troubles that some of her machines are causing, her father has always been supportive of her.
During the live streaming of her weather machine, it was revealed that she has a huge crush on Jake. Despite her tech ingenuity one episode revealed that she was having a hard time learning how to use a skateboard. Tricky, Jake and Fresh tried to help her learn but she was really struggling hard to balance her body on top of the skateboard. Overall, she is a jolly, sweet and tech genius friend in the group.
Yutani Skins
Green alien suit with dark-green spots.
Four arms.
Two antennas
Two large googly eyes.
Two large fangs.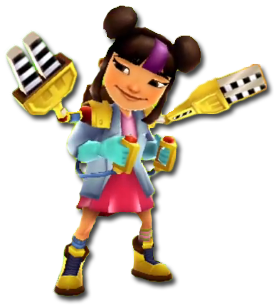 Yellow boots with blue laces, brown collar and brown midsole.
Wrong pair of socks with blue, pink and yellow-green colors.
Punch-pink skirt.
Blush-pink undershirt.
Denim jacket.
Cyan gloves.
Yellow plug arms with controls.
Yutani Subway Surfers Variants
Pearl-white boots with green laces, tongue and vamp.
Black pants.
Brown belt with bronze buckle.
Black gloves.
Green winter jacket with a pointy hood that has a brown ball tip.
Olympic-blue shoes with mismatched laces of scarlet and charcoal blue.
Olympic-blue gloves.
Olympic-blue hairbands.
Scarlet industrial coverall jumpsuit with black stripe arm and Olympic-blue zipper.
Green shoes with black laces and midsole.
Black belt with bronze buckle.
Purple industrial coverall jumpsuit with black placket and collar.
Black gloves.
Bionic arms with magnet and robotic hands.
Black eye-mask.