Ruinous Powers is the first alternative prayer book Jagex has designed for Old School RuneScape. It was initially meant to enter the game together with the fourth grandmaster quest, Desert Treasure 2, and you would have unlocked it by completing the quest. However, after loads of back and forth with the community, extensive feedback, and two betas, Jagex has suddenly decided to cancel the Ruinous Powers.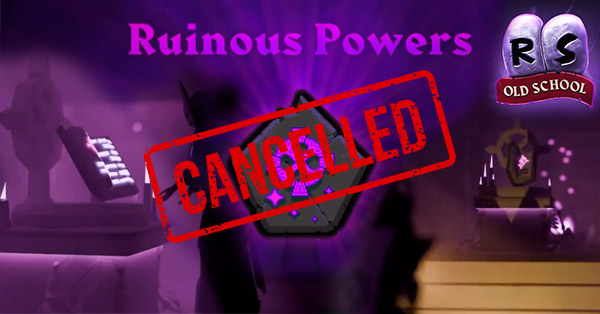 Why was the Ruinous Powers prayer book canceled for Old School RuneScape?
A New Alternative
Even though Jagex has expressed that they are open to working on an alternative prayer book for Old School RuneScape in the future, that alternative prayer book won't come as a reward for completing the most mechanically challenging grandmaster quest. Instead, suppose they work on adding a new alternative prayer book, regardless of its name. In that case, it will come as a wholly new and separate project, and Jagex anticipates it will take a similar amount of work as adding a new skill.
Why Did Jagex Cancel Ruinous Powers?
There are several underlying reasons why Jagex has decided to cancel the release of the Ruinous Powers alternative Prayer book. They include the release of other content at the same time, and development of other content at the same time, as well as the fact that after the player's feedback, the prayer book didn't really fill the niche that Jagex had originally envisioned for it but somewhat resembled an improved copy of the standard prayer book.
Jagex first spoke about the introduction of the new prayer book during the winter summit when they brought up Desert Treasures 2 for the first time. In the following months, they sifted through hundreds of player suggestions, underwent numerous iterations of the Ruinous Powers, and modified, deleted, and restructured Prayers. They also expanded about 12,000 words to convey these changes through various blogs during Community Consultation. Their goal was singular – to develop a distinctive and thrilling collection of Prayers that would supplement existing and new methods without entirely superseding the beloved standard Prayer book.
However, Jagex felt that their initial vision had been lost, and the product they set out to create needed to be fully realized, despite their attempts to create something exceptional. They were aware that players were eager for them to investigate new prayer books, new prayers, or novel ways to engage with combat in Old School. They believed that Desert Treasure II – The Fallen Empire was an ideal opportunity to start examining these concepts.
An Overlap
Jagex recognized the clear player opinion in favor of them exploring a new prayer book, as evidenced by the successful Greenlight poll. Yet, many players noted the considerable overlap between the Ruinous Powers and the standard Prayers, which diminished what was initially intended to feel like a choice and trade-off to a situation where if players were comfortable with the content, they should always utilize the Ruinous Powers. This resulted in an enhanced version of the standard Prayer book, which increased power substantially while occasionally incurring slightly more damage.
Maybe Next Time
The issue arose as a dilemma: even if players were content with this change, would it be appropriate to add the current iteration of the Ruinous Powers? Despite their confidence that the Ruinous Powers would succeed in a poll, Jagex understood that many players believed they should be kept from being introduced in their current state.
This came on the background of Jagex working on several other big projects at the same time, amongst which the new and upcoming Sailing skill, which has taken loads of Jagex's resources, and the Desert Treasure 2 quest itself, which is a very complex quest featuring for mechanically challenging bosses and a few other demi-bosses, as well as an intricate story, and several puzzles of various lengths. The quest also brings new regions in the game, such as the Stranglewood, the Scar, or the complex deeper level of Ruins of Camdozaal, where you can now earn OSRS GP.
Jagex recognized that while appealing features could persuade players to vote 'Yes,' not all popular proposals were beneficial for the game's long-term health. They were partly responsible for avoiding offering features that could damage the game over time. In this context, Jagex prioritized preserving the value of equipment and utilizing horizontal progression and niche weapons to fill gaps and overcome existing obstacles.
Jagex understood that 'devaluing' equipment could feel like cheating to many players who feared losing value on items they already owned more than power creep. This would also considerably affect the OSRS gold price.
You may also like:
Does EA FC 24 Have Crossplay?
PoE 3.22 Build Guide: Top Picks for Crushing the Trial of the Ancestors